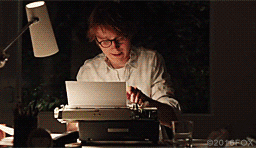 Hey guys,
Remember me?  I feel like I don't do much more than write night and day lately. Not since Dragon, has a book swept me up so that I write constantly. I have been transported into Gavin and Luna's world and Gavin isn't letting me go.  I love it.  There are just times with life that you need an escape. 
As a writer, that doesn't happen that often, because writing sometimes becomes a "job" and you write A and B to get to C. 
It's the books that transport you and help you to get lost that you feel deeply and become your favorites. 
Those books don't happen that often for me.  
Breaking Dragon did it. Captured, Burned and Released, did it and that's it...  I hope that means readers will love Letting You Go and When You Were Mine as much as I do. 
ARCS for LYG will go out tomorrow and I'm nervous but can't wait to see what everyone thinks about it. 
I have the price of 99 cents in the preorder because I thought it would be a novella. It's not.  It's a full length novel.  So it will go up to 2.99 after release. So grab it now it you haven't and plan on reading it.  
Amazon- https://amzn.to/2T7cH0m
iBooks- https://apple.co/2TpUxWS
Nook- http://bit.ly/2EBGzJl
Kobo- http://bit.ly/2H7HgvH
****
In other news, It's been a rough month personally.  Mom's not been good, a few health issues have popped up and tomorrow hubby goes to have some more stitches taken out and we get to hear if this cyst was cancer or not.  We feel good about it, but you always have that constant worry when the word cancer is involved. 
I'm going to be busy the next couple of days, but if you're in my reading group, there will be a bunch of giveaways coming up celebrating Letting You Go's release. It starts May 6th and  I have some of my favorite authors dropping in and sharing their stuff with you. Make sure you be on the look out.  I don't have a lineup yet, as I'm still asking people <3 
xoxo 
J
Please reload
I'm busy working on my blog posts. Watch this space!
Please reload
I'm busy working on my blog posts. Watch this space!
Please reload